My Team
When you became my client, you placed your trust in me to help make your vision a reality. I honor that trust with the help of my expert support staff. Together, we make a strong commitment to customer service.
If at any time you have a question, concern or need, please let us know.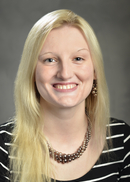 Ariana Elizabeth Hope Murray
Marketing Manager
Mobile 317-873-6060

Ariana is Brent Dilt's Associate Financial Representative. Ariana moved into this role after a year as Sales Execution Team Coordinator. Her primary duties include overseeing all of Brent's new business, as well as current, in-force business.
She will continue her role in training and developing College Financial Representatives, and acting as second-in-command to the College Unit Director.
To schedule an appointment with Brent, please contact Ariana at (317) 733-4978 or ariana.murray@nm.com.
Abbie Guntle
Sales Execution Team
Mobile 317-873-6060

Abbie is the office manager for the Zionsville office. Her primary responsibilities include assisting Financial Representatives with under five years of experience.